Many people are familiar with Santorini, Greece for its immaculately white village perfectly paired with magnificent views of the Aegean Sea. On the other hand, Chefchaouen, Morocco, which has been gaining momentum recently, is a city within mountains painted in shades of blue, rightfully earning the nickname "Blue City". What if I told you there is a town that combines the characteristics of Santorini and Chaouen? And yes, such a town really exists! Sidi Bou Saïd, Tunisia is one of the most picturesque places I've been to. It's a town known to have attracted artists, musicians, writers, and the bourgeoisies. After this post, you will see why.
My travel partner and I arrived in Sidi by car from Carthage and we were immediately in awe by the crystal blue of the Mediterranean Sea. Sidi Bou Saïd sits on a cliff and is composed of narrow, hilly roads. After a certain point, you're better off on foot so we hopped out of the car at the base of the town. For this reason, wear comfortable shoes!
The main road in Sidi is, naturally, touristic. Here is where we came across countless shops selling Tunisian attire, cafés, and food vendors. While my partner and I really enjoy seeing the sights wherever we travel, we also try to take the time to get off the beaten path. It's much less crowded and we love the opportunity to really see our surroundings. Even if it's just for a short period of time, I recommend taking some time to roam and people watch in your new environment.
By the time we reached Sidi Bou Saïd, it was lunch time. As we walked along the main road, we were checking for restaurants to settle into. Rather, I should say my partner was looking for restaurants. I kept stopping to admire all of the beautiful grande doors we kept coming across. So blue, so exquisite, and the Moorish architecture really topped it off. I lost count of how many doors I walked up to just to admire their impeccable designs.
Sidi Bou Saïd Sea view
We came across many restaurants but none of them met our one criteria: sea view! I just want to express how happy I am that we didn't give up because as we kept walking uphill, we found the perfect place… Café Des Délices. From the main road, there are steps leading down to the entrance of the café and the view is just unbeatable!
We didn't think the view could get any better than that. (You can pretty much guess what's coming next.) Walking through the archway entrance of Café Des Délices proved us all the way wrong.
Lesson: don't settle for less! Here's a photo of our view as we ate delicious hummus, seafood, lamb, and of course harissa. 
I think we sat, eating and relaxing for close to 2 hours before we continued our exploration of Sidi Bou Saïd. Despite wearing comfortable sandals, my feet needed that break. We returned to the main road and turned right on the first street to get off the touristic path. We walked uphill, downhill, turned several lefts and rights – just getting lost.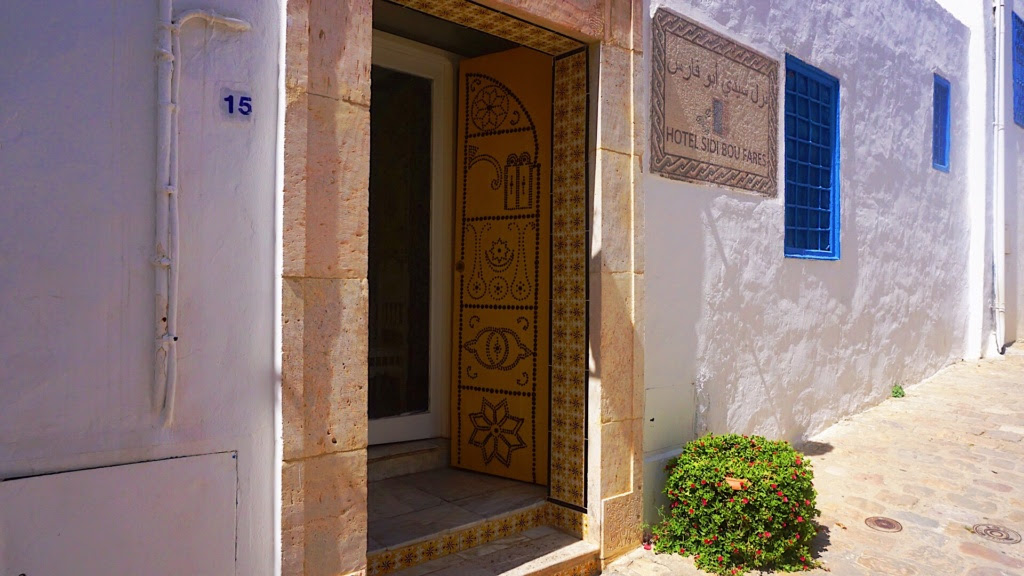 In a town of blue and white, we came across this beautiful yellow door hidden away by a garden. Perfect way to be subtle, yet standout.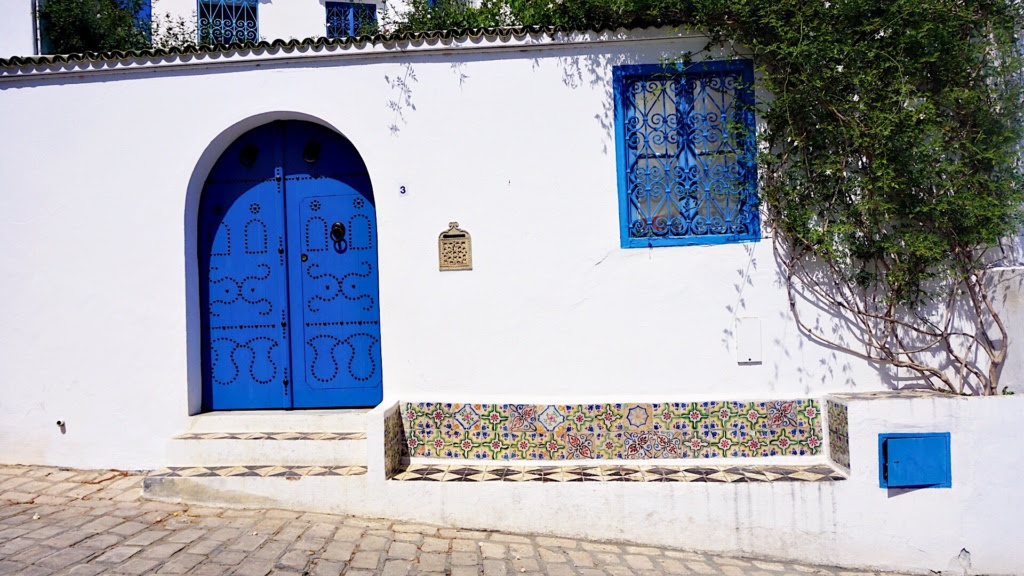 To complete our perfect day in the beautiful Sidi Bou Saïd, we enjoyed coffee and ice cream in one of the many rooftop cafés.
As you can see, we didn't have a crazy itinerary in Sidi except to eat and explore. Sometimes that's all we really need to be in the moment and take in life's simple pleasures.